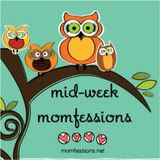 I don't know about you, but I have a lot to
confess
momfess about the way motherhood happens around here sometimes.  I blog about it (sometimes), but I don't want to be the only one 'fessin' up.  So here's your chance.  If you have some momfessions you need to unload, blog all about it
-- give us the nitty gritty
-- link up your post, come read the other linked "momfessions", and feel better that you're not alone!  (Feel free to grab the Momfessions button for your post!)
So, my momfession is television.  It's my secret weapon against the Bugs who now outnumber me three-to-one.  I don't like using the TV this way.  I hate popping in a movie to grab a quick shower, or showing a DVD to buy myself a few minutes to read the Bible, but it's just kinda happened.  My TV is on.  A lot.  Quite a bit more than I ever imagined it would be.  I feel oodles of guilt over it...
...
and then
I peek in and see the Bugs sitting so quietly, mesmerized by The Wonder Pets, and I think, "
Wow, I probably have twenty five minutes to wash my hair.  With soap.  And rinse it.
"
So what's your momfession?Powered by Linky Tools
Click here
to enter your link and view this Linky Tools list...