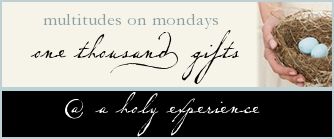 31. Daddy taking the big kids out for "special daddy time"
32. being alone with the baby (who hardly ever gets "alone time")
33. iced coffee in the middle of the morning
34. hot showers
35. the feeling of Q-tips cleaning my ears
36. anticipating a visit from dear friends
37. lifting voices in songs of praise as one body
38. sharing a meal with brothers and sisters
39. milk chocolate
40. getting mail/messages
just because
41. picking out the perfect gift, and wrapping it up
42. sitting on the balcony drinking tea with my love talking about nothing and everything
43. being adopted into the biggest, most wonderful family by the Biggest, Most Wonderful Dad
44. "water from the wells of salvation"
3 With joy you will draw water from the wells of salvation. 4 And you will say in that day:

"Give thanks to the LORD,
call upon his name,
make known his deeds among the peoples,
proclaim that his name is exalted. 5 "Sing praises to the LORD, for he has done gloriously;
let this be made known in all the earth. {Isaiah 12}