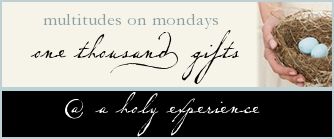 50. the magic of summer- heating lifting after dinner making way for beautiful evening at park
51. all three kids playing sweetly together
52. soreness the day after exercise
53. strawberries dipped in chocolate
54. the privilege of praying for a friend
55. frilly dress up clothes on a girl who thinks she's a princess
56. sweet little ballerina girl in pink
57. precious boy waiting up for a goodnight kiss
58. water
59. feeling thinner and healthier
60. waking up next to a smiling, snugly baby
61. börek with potatoes and cheese for breakfast
62. sunshiny days
63. laughter echoing through the house
64. a clean kitchen counter!
65. dreams for the future
66. strength to get out of bed in the morning
67. Hubby playing with my hair
68. kids with tousled bed-head (waking bright and early!)
69. the weekend!
70. lifting prayers together with brothers and sisters
71. jokes between friends
72. hearing "Mama"
73. being adopted into God's family
74. watching my parents talk to their grandchildren on Skype
75. hungering for the Lord
76. sweet texts from Hubby during the day
77. thunder in the distance
78. summer sandals
79. legs to walk wherever I need to go
80. a home full of beautiful things- comfy and cozy
81. green grass squishing between little toes
82. ice cream with sprinkles on top
83. the coolness of the air right before a summer rainstorm



5 Let the peoples praise You, O God;
Let all the peoples praise You.
6 The earth has yielded its produce;
God, our God, blesses us.
7 God blesses us,
That all the ends of the earth may fear Him.(Psalm 67)